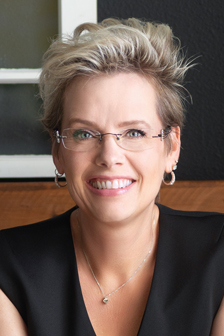 Get ready to change your mind: painting kitchen cabinets used to be considered a cheap, quick fix to get you through until you afford to buy new. That is far from the case today!  While I'm going to recommend enlisting a pro to help you get the project perfect, these examples are sure to spark inspiration. (Note: I'll add the first 10 looks here, and then provide a link to jump to the full list on ElleDecor.com).
-Beth
15 STANDOUT PAINTED KITCHEN CABINET IDEAS
A fresh splash of color can turn a dull space into the kitchen of your dreams.
Lucia Tonelli – Elle Decor – Apr 10, 2019
Images by Douglas Friedman / Bjorn Wallander
Ask any designer, and the challenge of refreshing a space—with minimal fuss or financial burden—is best achieved with a fresh coat of paint. If your kitchen is in need of an aesthetic revival, applying a few coats of color to dull or dated cabinets can make your space feel fresh and modern without the commitment of a full on renovation.
From bold and lacquered robin's egg blue, to sleek matte black, these kitchens prove the power of painted cabinets, and are full of inspiration for your next hassle-free home upgrade.
1. Spanish Colonial Kitchen
In a California kitchen designed by Colette Shelton of COCOCOZY, the Spanish colonial architecture takes center stage, with crisp white walls and pale blue cabinets that bring a light dose of color into the otherwise neutral space.
Image by Reid Rolls
2. Grecian Getaway Kitchen
A Grecian getaway's kitchen space takes inspiration from the lush mediterranean greenery, with citrus-inspired cabinetry to match the doors and window frame.
Image by Bjorn Wallander
3. Creative California Kitchen
In a colorful San Francisco home, the Scandinavian-inspired kitchen features Ceaesarstone countertops and white oak shelves, setting a bright and airy backdrop to the vibrant teal cabinetry.
Image by Suzanna Scott
4. B&W Kitchen
A black and white palette is anything but ordinary in this Lower East Side condo, with cabinets painted in a matte, jet black, creating a stark (yet comfortable) contrast.
Image by Julia Robbs
5. Maximalist Manse Kitchen
In the maximalist manse of Too Facedfounders Jerrod Blandino and Jeremy Johnson, light, bright blue-painted cabinetry brings a welcoming sophistication to the formal, yet modern kitchen.
Image by Douglas Friedman
6. Petite Pool House Kitchen
A petite pool house kitchen fuses the traditional look of toile with modern, glossy blue cabinetry.
Image by Mia Baxter Small
7. Catskills Retreat Kitchen
In the kitchen of Amanda Seyfried's Catskills retreat, hexagonal tiles wrap around a wood-burning stove, with cabinets and a refrigerator painted in a cozy sage shade.
Image by Stephen Kent Johnson
8. Punchy Purple Kitchen
A streamlined kitchen seamlessly blends high-gloss purple cabinetry with a sleek foundation and neutral shades.
Image from Getty Images
9. Moody Lake House Kitchen
In the kitchen of this modern Canadian lake house, rich, moody tones of the cabinetry pair with brass fixtures and a dramatic scallop backsplash, creating an elevated warmth in the family-centric space.
Image by Alex Lukey
10. Modern Emerald Kitchen
In this modern cooking space, the industrial look of exposed beams and brick are given a colorful kick with rich emerald cabinetry.
Image from MasterBrand Cabinets
Looking for even more inspiration?  Follow the link to the see all 15 painted cabinet kitchens.